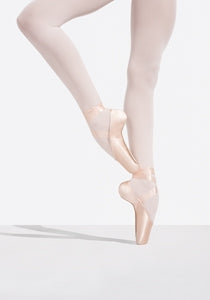 Feathered, full wing-box for lateral support Offers moderate internal toe shape created on an arched last.
#1 leather board shank contains half-skived orange board tongue with flex point at the ball of the foot.
Moderate vamp; 3/4 box; regular side seam; Satin binding with cotton drawstring; Plush, rose-colored, anit-slip interior lining; low crown with narrowed and enhanced heel curve; high and wide platform, flex point on shank's tongue allows for greater flexibilty at the ball of the foot and arch. Shank is lined with dyed pink suede sock lining and scored ribbon motif on outsole helps with traction.
SIZE 5 - 10
Width - N, M, W, WW.
COLOR Petal Pink.
Woman -- Begin fitting same as street shoe.