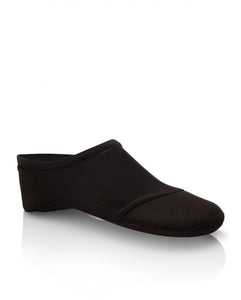 The Leap is an all-around shoe that fits like a glove and is stretchable and cushioned. It can be used for a variety of dance, gym, and fitness purposes.
Stretch polyester / spandex upper
Soft and flexible neoprene sole
Scaled-to-fit clear silicone logo printed on sole for traction and grip
P(4-5), S(6-7), M(8-9), L(10-11) Adult,
Large Child (12-2.5)
Begin with street shoe size
Men begin with two sizes up from street shoe size
Available in black.